Enhanced Maneuverability: Mini lithium electric pallet trucks are specifically designed to navigate through narrow aisles and confined spaces with ease. Their compact size allows for efficient movement in tight areas, reducing the risk of accidents or damage to goods and infrastructure.
Improved Space Utilization: Traditional pallet trucks often require wider aisles for maneuvering, resulting in underutilized warehouse space. Mini lithium electric pallet trucks optimize space utilization by efficiently operating in narrower aisles, enabling businesses to maximize their storage capacity and increase overall productivity.
Increased productivity: The mobility and flexibility of the mini lithium-ion pallet truck from
full-electric pallet trucks manufacturers 
can help increase productivity in narrow aisles and confined spaces.
Operators can easily maneuver between racks and shelves, reaching goods quickly and efficiently. This reduces the time required for material handling tasks, resulting in higher throughput and improved operational efficiency.
Time and Labor Savings: By utilizing mini lithium electric pallet trucks, businesses can reduce the time and labor required for manual material handling tasks. The trucks' electric propulsion system eliminates the need for manual pushing or pulling, reducing operator fatigue and increasing overall productivity. Additionally, their compact design allows for shorter travel distances, minimizing the time spent navigating the warehouse.
Operator Safety and Ergonomics: Mini lithium electric pallet trucks prioritize operator safety and ergonomics in narrow aisles and confined spaces. They are designed with features such as intuitive controls, ergonomic handles, and enhanced visibility, ensuring operator comfort and reducing the risk of musculoskeletal injuries. This focus on safety contributes to a healthier and more efficient working environment.
Versatile Load Handling: Despite their compact size, mini lithium electric pallet trucks are capable of handling various types of loads. They can lift and transport palletized goods, containers, and other materials, allowing businesses to handle a wide range of products efficiently. This versatility further enhances operational flexibility and adaptability.
Reduced Product Damage: The maneuverability and precision of mini lithium electric pallet trucks minimize the risk of product damage in narrow aisles and confined spaces. Operators can navigate through tight spaces with control and accuracy, reducing the chances of collisions or accidental impacts with shelving units or other objects. This helps maintain product quality and reduces unnecessary costs associated with damaged goods.
Environmental Sustainability: Mini lithium electric pallet trucks offer environmental benefits in terms of reduced emissions and noise pollution. The use of electric power and lithium-ion batteries eliminates the need for fossil fuels or hydraulic fluids, resulting in a cleaner and quieter operation. This aligns with sustainability goals and regulations while providing a healthier working environment for employees.
Easy Maintenance and Long Battery Life: Mini lithium electric pallet trucks are designed for ease of maintenance. The integration of lithium-ion batteries provides extended battery life, reducing the frequency of charging and downtime. Additionally, these trucks often feature user-friendly maintenance systems and easily accessible components, allowing for quick and efficient maintenance tasks.
Cost Savings: The advantages of mini lithium electric pallet trucks in narrow aisles and confined spaces translate into cost savings for businesses. Improved productivity, reduced labor requirements, optimized space utilization, and lower maintenance costs contribute to overall operational efficiency and a positive return on investment.
The advantages of mini lithium electric pallet trucks in narrow aisles and confined spaces include enhanced maneuverability, improved space utilization, increased productivity, time and labor savings, operator safety, versatile load handling, reduced product damage, environmental sustainability, easy maintenance, and cost savings. These advantages make mini lithium electric pallet trucks a valuable asset for businesses looking to optimize their warehouse operations in limited space environments.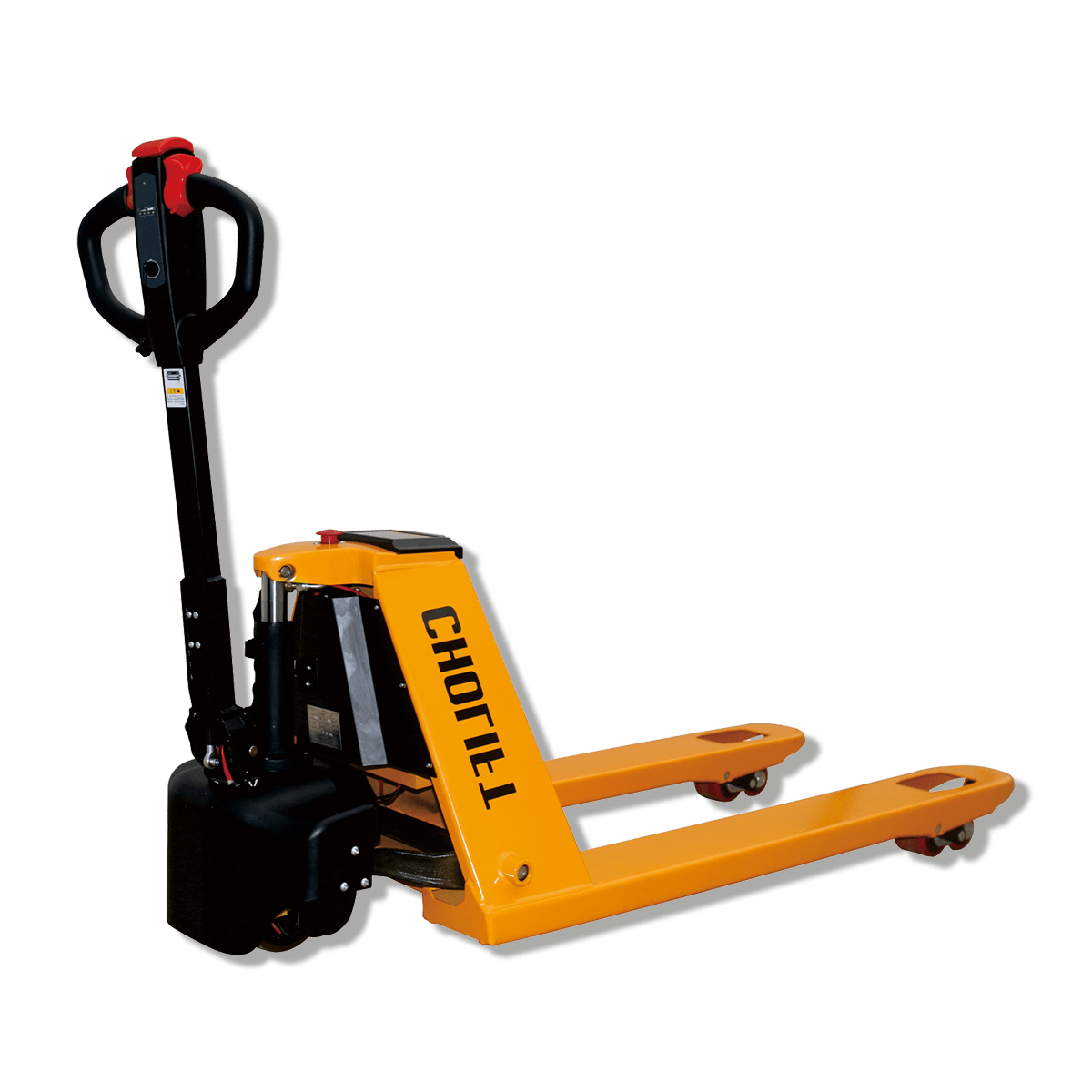 MINI LITHIUM ELECTRIC PALLET TRUCK
The pioneering design of the mini lithium electric carrier, beautiful appearance, compact structure, efficient and labor-saving, multi-functional handle makes the operation more convenient. Fast charging and battery replacement greatly improve the work efficiency, turtle speed button can walk upright and small turning radius to meet the needs of narrow channels.